WRITING
The skills of reading, writing, and speaking and listening are vitally important, and will have a direct influence on all areas of the curriculum.
Our aim is to encourage our pupils to have a love for reading and writing and have a good understanding of vocabulary in the written and spoken format.
Writing
Talk for writing is used in all classes, an approach pioneered by Pie Corbett. The process enables children to take part in role plays, speaking and listening activities, including hot seating and it gives them opportunities to learn actions, symbols and words for set texts which they can magpie in their own writing.
High quality writing is modelled to pupils through whole class shared writing sessions (pupil are shown how to do it) and guided writing sessions for small groups of children. Children are encouraged to write independently in daily writing sessions, with the emphasis on good quality texts and developing grammar and spelling skills.
We recognise the importance of developing a clear style of handwriting early on. In the reception class, children are taught to form each letter of the alphabet correctly. Presentation is important and pupils are encouraged to take a pride in their work.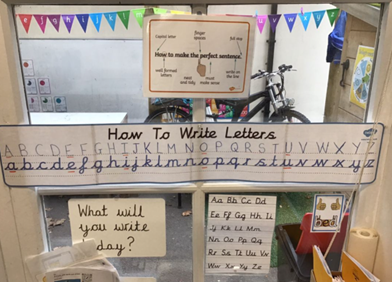 Inspiration from others is always important, especially from our local resident author and illustrator Rosie Wellesley.